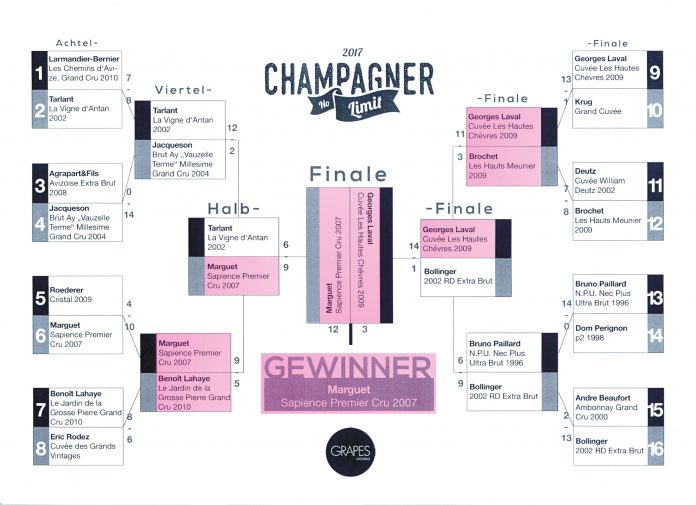 Dovolte nám podělit se o skvělý úspěch vinařů reprezentovaných v České Republice naší společností PMP Exclusive:
V květnu 2017 se v Mnichově konala slepá degustace Champagne s 16  top michelinskými sommeliéry, bloggery a specializovanými žurnalisty, kam každý přinesl podle svého mínění to nejlepší  z BEST OF THE BEST CHAMPAGNE. Tyto vzorky byly pak slepě degustovány všemi zúčastněnými metodou losovaného play-off.
Hned čtyři vína našich vinařů se dostala do tohoto unikátního výběru a všechna s přehledem prošla do čtvrtfinále. Zde nastal dvojitý bratrovražedný souboj, ve kterém vypadli B. Lahaye a E. Brochet. Jeho vítězové B. Marguet a G. Laval se pak utkali až ve finále!
Vítěz klání, Sapience od Benoit Margueta, je něco zcela jedinečného. Jde o první bio dynamické top cuvée vyrobené jako Brut Nature bez přidání SO2 z certifikovaných hroznů tří špičkových producentů Champagne, kteří se dlouhou dobu zabývají biodynamickými postupy – Georges Laval, David Léclapart a Benoît Lahaye (všichni v portfoliu PMP).
Pan Benoit Marguet se k vítězství Sapience vyjádřil: "Taková degustace by se měla konat v každé metropoli světa, aby lidé otevřeli oči současnému dění v oblasti Champagne. Toto není jen uznání výjimečné práce, která stojí za vytvořením značky Sapience. Jde o společný úspěch všech organických vinařů a jejich  přátel!"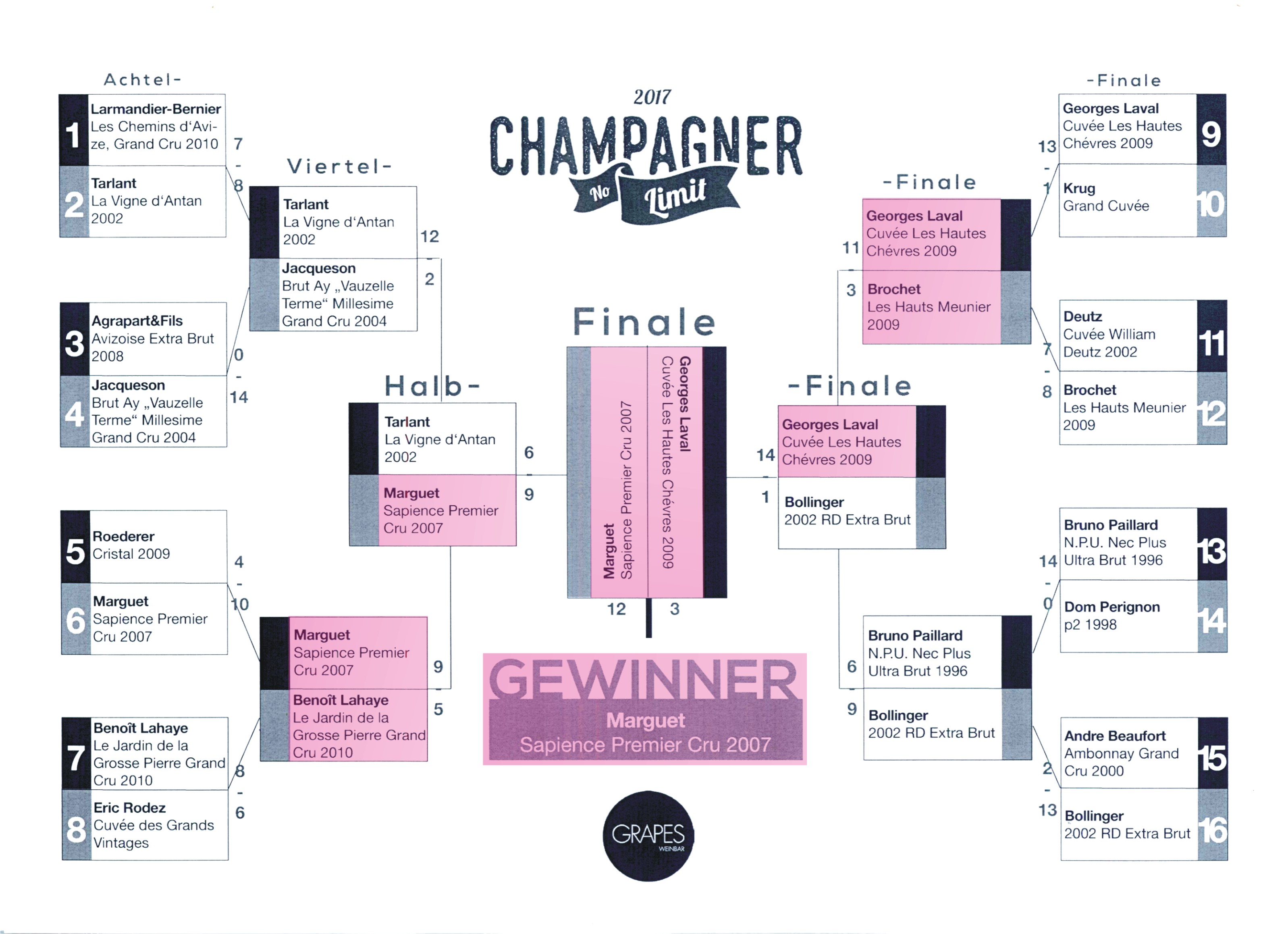 … při této příležitosti si vás dovolujeme hrdě pozvat na degustaci:
BEST OF THE BEST CHAMPAGNE
Dne 12.10.2017 (čtvrtek) od 19:00 v showroom apartmentu společnosti INNEX (Pařížská 5, Praha 1), kde budete mít možnost ochutnat nejen čtveřici našich muškětýrů z Mnichova, ale i další prestižní top cuvée z naší nabídky. V příloze naleznete kompletní výsledky degustace, jakož i výběr z našich BEST OF THE BEST CHAMPAGNE.
Vzhledem k jedinečnosti této akce a omezené kapacitě Vás žádáme o potvrzení účasti co nejdříve na:
E-mail: info@pmp-exclusive.cz
Tel: 604 720 697, Petra Bojko